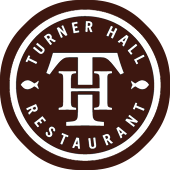 Turner Hall has a long and storied history, dating back to the late 17th century. Dedicated to the ideal of a "sound mind and sound body," German immigrants completed the construction of this historic Romanesque building in 1883.
The Turners have a proud history of civic engagement. As abolitionists, Turners served as soldiers in the civil war. They promoted women's rights and fought for clean government in Milwaukee at the beginning of the 20th century.
In 1996, this site was designated a National Historic Landmark.
For this special MKEfoodies event, Turner Hall Restaurant will offer complementary appetizers from their revamped menu, launched this past winter when Turner Hall reopened after their remodel. Drink specials will also be available.

James Beard nominated chef Thomas Peschong

will also be present to chat with us about the menu.




All proceeds will go to our 2013-14 Community Partner organization, which will be announced in September!
So come join us to sample the flavor of new Milwaukee in a grande old space. And bring your appetite. The full menu will be available for you to purchase items from.
EVEN BETTER, they'll be serving Thursday Fish Fry just for us, including beer-battered or baked North Atlantic cod ($12), crisp panko-breaded Wisconsin walleye ($14), or buttery Ritz cracker-coated Wisconsin lake perch ($14).
S

o please come out, support the restaurant, and enjoy!
Organization of the month:
Look for details on our MKEfoodies Community Partner program in the upcoming weeks.